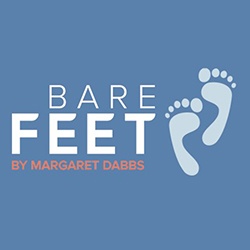 Created by foot expert Margaret Dabbs, Bare Feet combines a wealth of knowledge and expertise designed to address your patients most common foot concerns, from dehydrated skin to callus and cracked heels.
Bare Feet provides a selection of attractive and essential foot care products which are both cruelty free and made in the UK.
Featuring great smelling, long-lasting and hard-working ingredients including Manuka Honey and Ginger the Bare Feet range is also ideal to retail to you patients for use at home.
Read Our Latest Blog Posts
In this blog, we'll explore the crucial link between diabetes and foot complications. We'll provide practical diabetic foot care tips and useful advice on helping patients to choose the right shoes to reduce any complications that could be caused by diabetes.How does diabetes affect the feet?Diabetes and foot problems are closely linked...

Read more...

Friday, 20th October marked the eve of our remarkable roadshow, as the Canonbury team embarked on a journey to the Football ground in Reading. With the van loaded and spirits high, we set up our space, eagerly anticipating the arrival of delegates the next morning. As the sun rose on Saturday, final preparations were made, and our eager attendees ...

Read more...