Canonbury Field Sales Team
Our Canonbury Business Development team are here to help you select the most benefical products for your practice. They can provide demonstrations of key products and equipment including the SafeTPen, Digitsole Pro Gait Analysis System, Podiatry Drills, Surgery Equipment, Shockwave Therapy, Domiciliary Equipment and Orthotics. In addition, they can offer new product suggestions and retail product recommendations.
Michelle joined Canonbury after a successful podiatry career in the NHS, followed by a stint working for an international distributor and then several years as lead podiatry lecturer at Birmingham Metropolitan University.
Nathan Miiller comes with a wealth of experience gained within the podiatry sector having worked for both manufacturers and distributors before joing Canonbury. Nathan looks after customers based in the North of the UK.
Tracey Bartlett has an equally strong background in podiatry/orthotics, having worked for many years as a Manager in one of the UK's leading orthotist/prosthetist service companies. Tracey looks after customers based in the South of the UK.
Michelle, Nathan and Tracey are passionate about how they can help you to grow your businness by offering solutions to your growth challenges... Don't believe us? Give them a call...!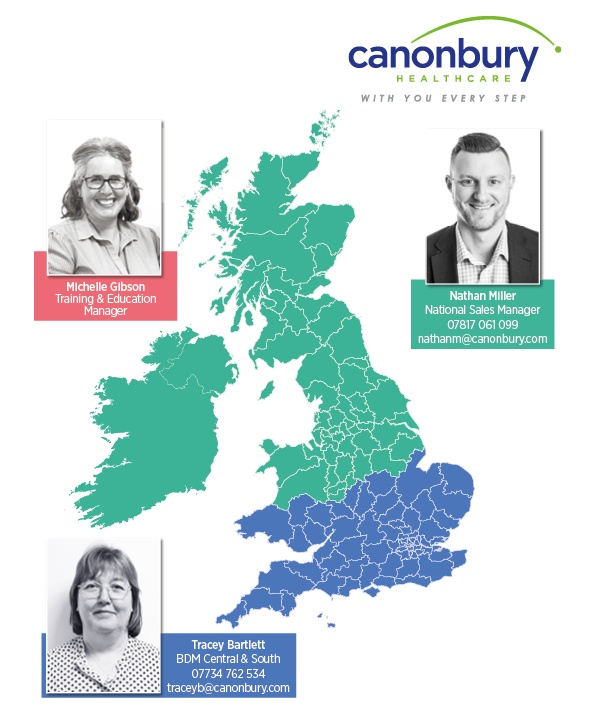 This experienced team are supported by a small team of Customer Service staff based in the Brackley Head Office. The Brackley team are on hand to deal with any query, large or small, and to process your orders quickly, efficiently and accurately.
In most cases the Brackley team will be your first "port of call" and they can then ensure, if necessary, your details are passed across to the optimal person to deal with your enquiry.
They can be reached by calling our main sales number, Monday to Friday, 0830 to 1700hrs, (01280-706661) and following the voice prompts. Alternatively you can email them via [email protected]
---