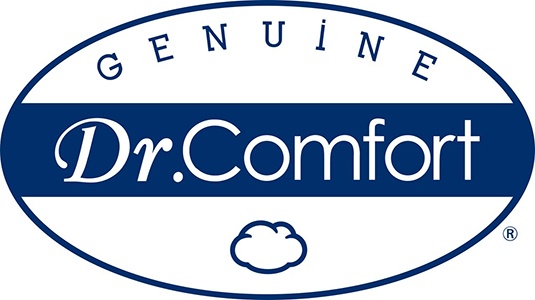 Founded in 2002, Dr Comfort ensures your patients' have correctly fitting footwear with a range designed specially for patient's with specific needs or for those with foot health concerns.
Based on over 30 years of experience, and designed in collaboration with professional podiatrists, Dr Comfort footwear features extra width and depth in the toe box and forefoot to relieve pressure from key areas of the feet, ideal for patients with diabetes or other foot health conditions.
In addition to footwear, the Dr Comfort range also features a selection of compression socks, combining function, fashion and comfort for both preventative and therapeutic support.
Retailing Dr Comfort is also a great way to add additional revenue to your business. For more information on Dr Comfort request more information HERE
Dr Comfort Shoes
Dr Comfort are known for designing footwear that offers both style and comfort. Each shoe is crafted with the latest in technology, with features such as extra depth and width, removable insoles, and shock-absorbing soles which help reduce pressure points and enhance overall comfort.

Not only are Dr Comfort shoes comfortable, they're also beneficial for people with sensitive feet and foot conditions such as diabetes and plantar fasciitis.
Why choose Dr Comfort Shoes?
Dr Comfort Shoes are made with high-quality materials that are designed to last. The shoes feature durable leather, breathable mesh, and other quality materials that can withstand everyday wear and tear.
Dr Comfort Shoes offer excellent support for your feet. They are designed to provide proper arch support and reduce the strain on your feet, making them a great choice for those who spend long hours on their feet.
Many Dr Comfort Shoes come with removable insoles, which can be replaced with your own custom orthotics. This allows you to customise the shoes to your specific needs and provides an additional level of comfort and support.
Simply Feet Foot Care
Treat your hard-working feet with the Simply Feet Foot Care range. From exfoliators to soothing creams, shop the range today. Simply Feet Foot Care