Friday, 20th October marked the eve of our remarkable roadshow, as the Canonbury team embarked on a journey to the Football ground in Reading. With the van loaded and spirits high, we set up our space, eagerly anticipating the arrival of delegates the next morning.
As the sun rose on Saturday, final preparations were made, and our eager attendees began to trickle in just after 8.30am. This early start provided ample time to explore our shop, savour a coffee, reconnect with friends, and engage with our exhibitors.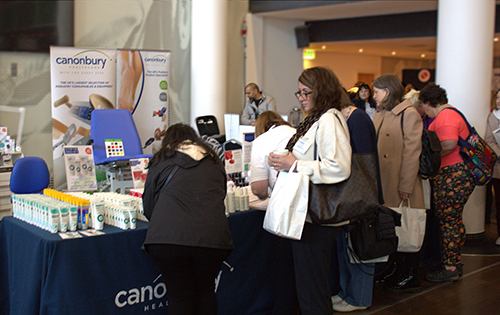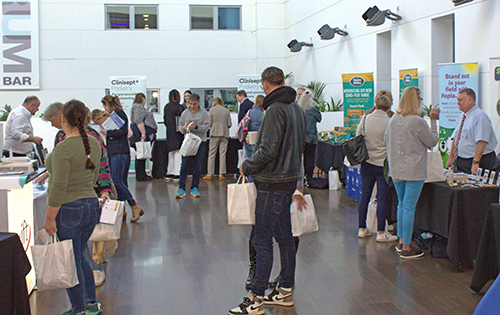 At 9.30am, the event officially kicked off with an enlightening presentation by Mike Ratcliffe, Podiatrist and Training Manager at Cuxson Gerrard. Mike's discussion on diabetes and offloading was both invigorating and uplifting, highlighting the acceptability of Felt padding for off-loading wounds on a diabetic person's foot, as per current research standards.
Following a well-deserved coffee break, Trevor took the stage to demystify biomechanics. His exploration of newer paradigms and patient management techniques provided a broader understanding, dispelling the notion that Root theory is not a current approach.
Lunchtime was a resounding success, with attendees praising the delicious offerings provided by the venue. Animated conversations and networking opportunities filled the room, a testament to the vibrant community that gathered. The Canonbury team was kept on their toes, engaging with attendees about offers exclusive to the show and discussing the profession and its myriad opportunities.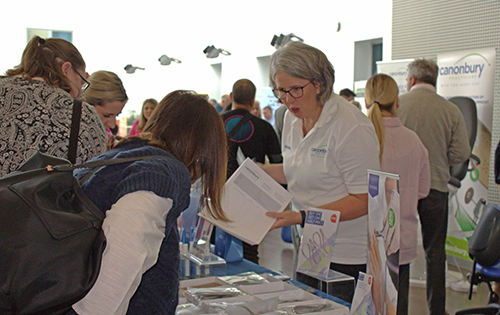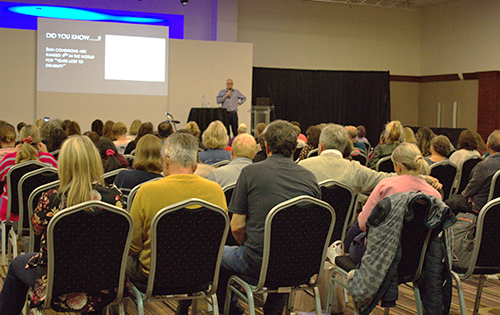 Reinvigorated and eager for more knowledge, we were treated to Ivan Bristow's talk on making Dermatology an integral part of our practice. With a focus on skin and nail assessment during clinical appointments, Ivan emphasized the importance of diagnosis before treatment, particularly with nails. This led to a surge of interest in Prevent ID (five-minute fungus), a test designed to identify dermatophytes in the nail.
Our final coffee break provided one last chance to connect with exhibitors, whose presence was instrumental in the success of the Roadshow. We extend a heartfelt thank you to Cuxson Gerrard, MDS medical, Footmedics, The Hive, Clinisept, Scholl, Emblation, Polygel, and Dermatonics for their invaluable contributions.
To conclude the day, we introduced group workshops – felt offloading, biomechanic examination and dermatology case studies, allowing delegates to solidify their learning from the morning sessions with practical knowledge. This addition was met with enthusiasm and gratitude from our attendees.
Now that we've had a chance to catch our breath after the whirlwind of Saturday, our sights are set on the next endeavour. Keep an eye out for updates – we'll be sharing details soon.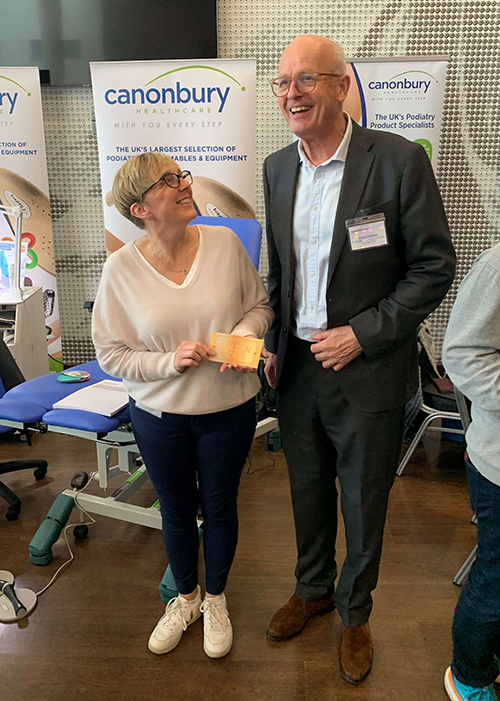 Some feedback from delegates who attended the show:
"Firstly, I wanted to thank you for organising such a great programme yesterday. Very informative and helpful".
"Thanks again for a really inciteful and wonderful conference today. Much appreciated".
"Let me just congratulate you and Canonbury for such a good conference day (and the workshops amazing!) – a lot was learnt, thank you –
I'll definitely be coming back for the next conference".
"Brilliant time was had and definitely the right speakers were chosen".
"Thank you for a really fun and informative day, the speakers where very good and the workshops helped to consolidate the lectures.
I also found the stalls very helpful, and I learnt from talking to them.
Thank you also for a very impressive lunch menu, so much better than sandwiches! Thank you, I found the whole day inspiring".